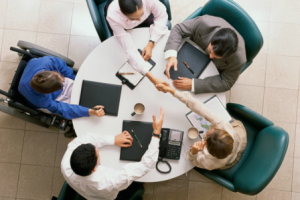 Innovation is a tricky topic.  You can have the best ideas and technological "know-how" – but if you don't know how to organize and manage innovation internally your success is at risk. There is no need to repeat mistakes that others have made!
i2i is perfectly suited to:
• manage the innovation process up to handover to your operational business unit
• work out organizational measures to enable efficient innovation
Companies have to stay on top of technological development. This is what their end users and the market expect. This can be very challenging, especially for small lean organizations, who don't have a dedicated business development team. i2i associates provide flexible business development resources on a temporary basis. In this way, companies can develop new products and services without having to build up permanent resources.
i2i with its many years of business development and project management experience is perfectly positioned to review the market and find the optimal solution for any particular scenerio. Whether mobile technology, converged services, unified communication or international networks – we know the relevant suppliers and can design the best solution for you.
i2i is not affiliated with any service provider or equipment supplier and so only has its customer's interests at heart.


Download PDF
https://i2iassociates.com/download/https://i2iassociates.com//wp-content/uploads/2013/05/Flyer_Innovation_Support.pdf